Case Study:
Enhancing Charter Board Efficacy and Academic Outcomes with Education Board Partners
| | |
| --- | --- |
| INDUSTRY: | Education and Social Impact |
| LOCATION: | Washington, D.C. |
| YEARS OF SERVICE: | October 2018-Present |
Education Board Partners (EBP) provides training to over 150 boards of charter schools and organizations across 16 states and sought to transform its data collection processes and project management capability to be able to better support and track the progress of their boards, in order for the boards to have optimal impact on their schools. Working with limited data on their boards made supporting them effectively and tracking progress difficult for EBP. Innovare created surveys and project tracking tools for EBP to gather the real-time data they needed to reveal their boards' strengths and weaknesses, in order to make good decisions in supporting their boards toward achieving improved governance and academic outcomes. With Innovare's support, EBP now has the ability to provide effective training and oversight based on the unique needs of their stakeholders.
"Innovare has visualized data in a way that's really meaningful for boards to interpret; we now have one streamlined survey that every board member gets, and we're able to easily download reports on all of our data."

Sarah Morgan, Program Manager, Education Board Partners
What did Innovare do?
What impact is our work having?
Created data collection tools
All board members now get the same surveys that are easy for them to interpret and complete, which makes addressing pain points easier
More insightful project management
EBP staff are now able to track their work across the country via Innovare's easy-to-use project management tools
Built custom data visualizations and reports
EBP staff can now easily access the data of the boards they serve and download and share reports with stakeholders
The Challenge
Education Board Partners wanted to improve the oversight of its boards but lacked the system and real-time data needed to operationalize their strategy. Prior to working with Innovare, the Education Board Partners staff was providing training sessions and board oversight as more of a 'one size fits all' solution that wasn't able to meet the unique needs of each individual board. One of the primary ways EBP gathers data is to conduct diagnostic surveys with each of its boards. Previously, EBP was performing the surveys manually and staff members conducted them differently, resulting in an inconsistent process and inconsistent data.
Because much of the data was gathered manually, it took staff not only a long time to get the data, but the staff was spending many hours attempting to understand the data in order to plan the next steps and support their boards and schools effectively. EBP sought to streamline their processes to save time and get the right data, in a more expeditious manner, in order to understand the state of their boards and schools and address their pain points as needed.
"After working with Innovare, we can actually see the improvement in governance and school quality."
Sarah Morgan, Program Manager, Education Board Partners
The Approach
Our process with all of our partnerships is rooted in human-centered design: we understand the context our partners are working in to inform our approach and leverage our technology to turn their pain points into gain points.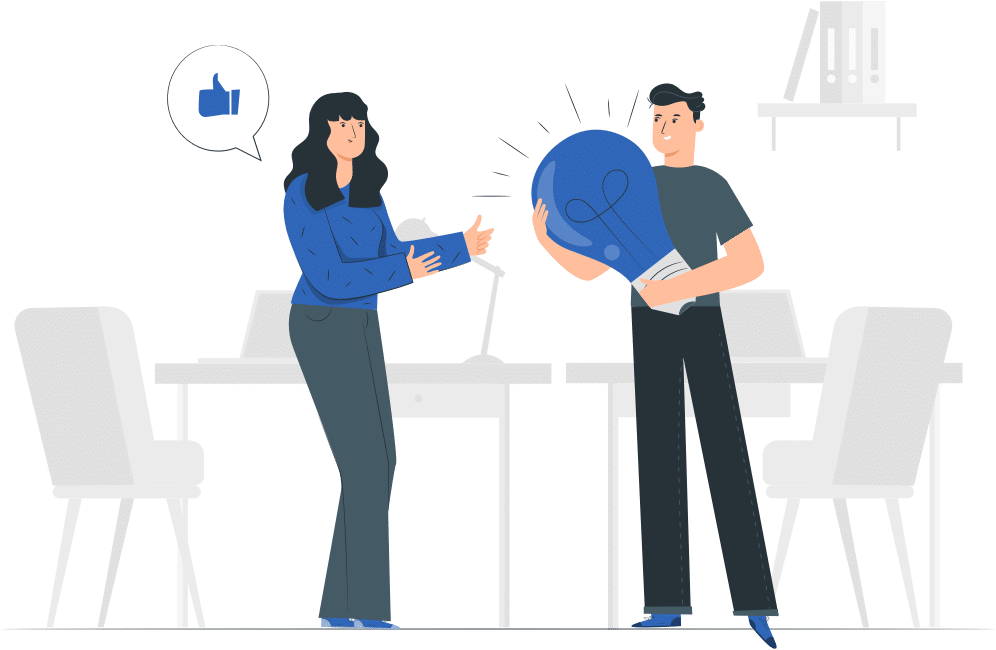 During our onboarding meetings and inventory of their existing systems, we learned what Education Board Partners was missing and what they were trying to solve: a lack of real-time, accurate, data that would lead to enhanced trackability of their boards and better board governance and academic outcomes. As a result of the lack of data at their disposal, EBP could not ensure its boards were operating efficiently and effectively, limiting their ability to share the story of their impact.
So, Innovare employed its usual three-step process to support Education Board Partners. First, we quickly understood what data systems the organization had and met with key people in the organization to identify their data pain points. Then, we worked with staff to co-design data collection tools including their digital surveys and project trackers, and other data infrastructure elements that were easy to use and best met the organization's needs. Thirdly, we worked with the executive team to train staff on how to use the entire system to ensure sustainability and support the development of strategies that scale the organization's impact on their boards and the schools and students they serve.
The Solution
With Innovare's support, Education board Partners now has:
Digital surveys and project trackers to streamline EBP's processes and enhance the outcomes of their boards and the students they serve, improving EBP's organizational impact
An aligned process where all board members now get the same survey that is easy for them to interpret and complete, which makes addressing pain points much easier
Easy access to their boards' data and downloadable and shareable reports to share with stakeholders